Synergistic Zinc 15mg
Supports immunity, fertility, hair, nails and skin
Zinc and copper work synergistically and contribute to the normal function of the immune system and the protection of cells from oxidative stress. Zinc also contributes to the maintenance of normal hair, nails and skin and plays a role in fertility and reproduction. The zinc in this product is chelated with amino acids for optimum absorption and utilisation.
Nutritional Information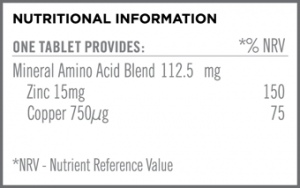 Ingredients
Dicalcium phosphate, zinc amino acid blend (with rice protein, citric acid, zinc oxide, glycine, copper sulfate, rice protein concentrate), bulking agent (microcrystalline cellulose), croscarmellose sodium, magnesium stearate
Directions
Take one tablet daily with food.