Zinc 30mg
High strength Zinc citrate balanced with copper.
Zinc is an essential trace mineral and is needed for hundreds of enzymatic processes within the body. Zinc works in balance with copper, which is why we have added this important mineral to the formulation.  Both zinc and copper are required for the normal function of the immune system and for the protection against oxidative stress. Zinc is required for the normal function of the skin, hair and nails and synthesis of protein and DNA. Zinc is needed for normal fertility, reproduction and normal serum testosterone concentrations as well as normal bones and cognition. Copper is required for normal connective tissue, normal skin pigmentation and for the function of the nervous system. Zinc status may become compromised in cases of poor diet, poor gut health and high consumption of phytates found in grains.
Nutritional Information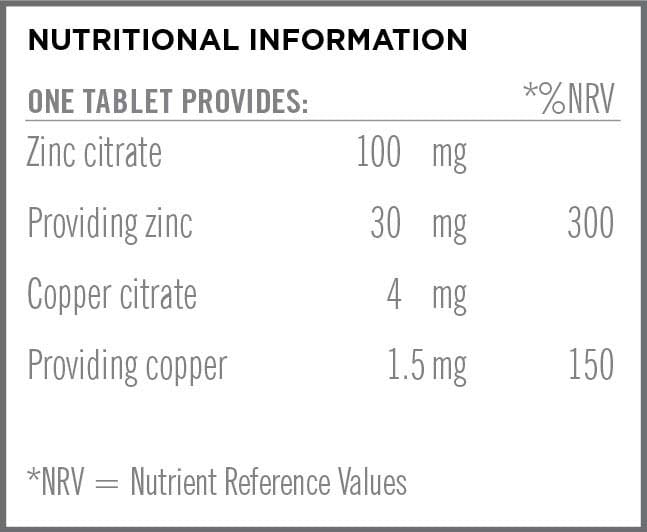 Ingredients
Dicalcium Phosphate, Zinc Citrate, Microcrystalline Cellulose, Precipitated Silicon Dioxide, Croscarmellose Sodium, Magnesium Stearate, Copper Citrate.
Directions
Take one tablet daily with a meal. Swallow with water.