Flavanon-4 – 30 TABLETS
Combined non-soya plant based isoflavones from red clover*
Flavonon-4 contains standardised non-soya based plant isoflavones from red clover. Each tablet provides 40mg of combined isoflavones. May be chosen by women of menopausal age.
Nutritional Information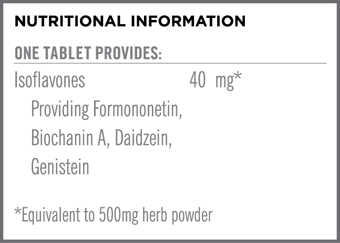 Ingredients
Di-calcium phosphate, plant isoflavones, bulking agent: microcrystalline cellulose, magnesium stearate, anti-caking agent: silicon dioxide, croscarmellose sodium.
Directions
One to two tablets daily with food.