Synergistic Magnesium 150mg
Supports muscle health, energy levels and the nervous system
Magnesium and vitamin B6 contribute to a reduction of tiredness and fatigue and to normal energy yielding metabolism. These synergistic nutrients also contribute to the normal functioning of the nervous system and to normal psychological function. Magnesium also plays a role in the normal function of muscles and is involved in the maintenance of bones and teeth. The magnesium in this product is chelated with amino acids for optimum absorption and utilisation.
Nutritional Information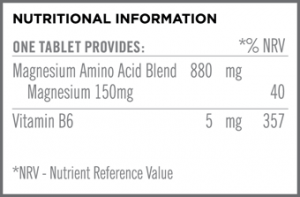 Ingredients
Magnesium amino acid blend (with citric acid, magnesium oxide, Aspartic acid, Rice protein, Rice protein concentrate), Bulking agent (microcrystalline cellulose), croscarmellose sodium, Glazing agent (hydroxypropyl methylcellulose, microcrystalline cellulose, stearic acid, calcium carbonate), Anticaking Agent (magnesium stearate), Pyridoxine hydrochloride (with hydroxypropyl methylcellulose).
Directions
Take one or two tablets daily with food.