Bio C Complex
Balanced Ratio. 500mg vitamin C + 500mg bioflavonoids
Provides vitamin C along with bioflavonoids, which are widely distributed in plants particularly in vitamin C rich foods. Vitamin C is an antioxidant that contributes to the protection of cells from oxidative stress and to the normal functioning of the immune system. Vitamin C helps towards collagen formation for many body tissues including skin, gums, teeth and cartilage. It is also involved in energy metabolism and contributes to the reduction of tiredness and fatigue. Important: Intakes above 1000mg of vitamin C may cause mild stomach upset in sensitive individuals.
Nutritional Information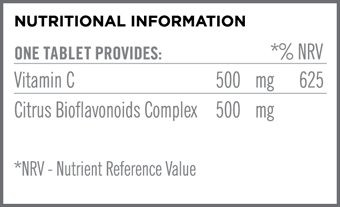 Ingredients
Ascorbic acid (with hydroxypropyl methylcellulose), Citrus bioflavonoids (with maltodextrin), Dicalcium phosphate, Bulking agent (microcrystalline cellulose), Anticaking agent (magnesium stearate), croscarmellose sodium, Anticaking agent (precipitated silicon dioxide), Glazing agent (hydroxypropylmethylcellulose).
Directions
Take one to three tablets daily with a meal.