Effervescent Vitamin C
100mg of Vitamin C in Effervescent format.
Vitamin C is an antioxidant nutrient that contributes to the protection of cells from oxidative stress and to the normal functioning of the immune system. Vitamin C helps towards collagen formation for many body tissues including skin, gums, teeth and cartilage. It is also involved in energy metabolism and contributes to the reduction of tiredness and fatigue.
Nutritional Information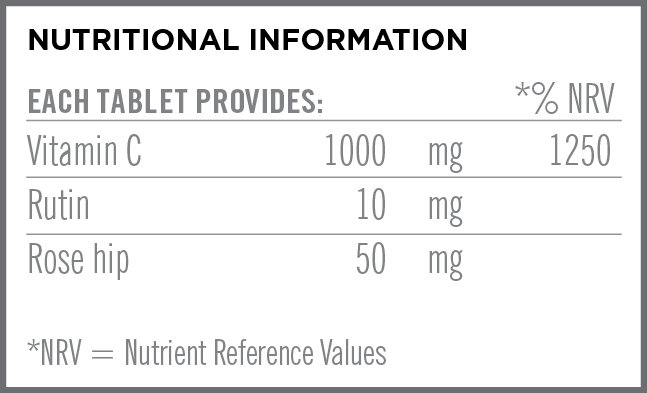 Ingredients
Acidity regulator: citric acid, L-ascorbic acid, acidity regulator: sodium hydrogen carbonate, bulking agent: sorbitol, polyethylene glycol, maltodextrin, sweetener: sucralose, natural flavouring, colours: beetroot red, riboflavin, rose hip extract, rutin, acacia gum.
Directions
Take one tablet daily dissolved in water.