Synergistic Iron 15mg
Iron with 11 synergistic nutrients
Quest Synergistic Iron provides iron, vitamin C, vitamins B2, niacin, B6, B12, pantothenic acid and folic acid which contribute to the reduction of tiredness and fatigue. Iron plays a role in the transport of vital oxygen around the body and in the formation of red blood cells. Quest Synergistic Iron provides a gentle form of iron chelated with amino acids and additional nutrients to aid in its absorption and utilisation in the body.
Nutritional Information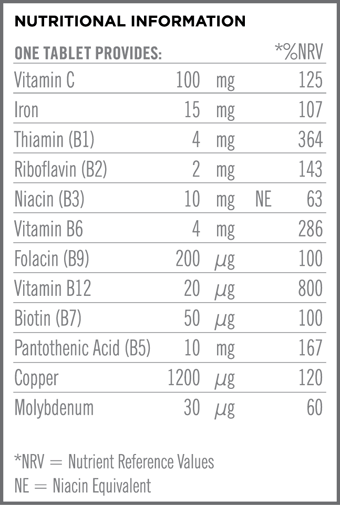 Ingredients
Dicalcium phosphate, synergistic iron amino acid blend (iron glycinate, rice protein, copper sulphate, glycine, sodium citrate, molybdenum aminoate, rice protein concentrate), Bulking agent (microcrystalline cellulose), Ascorbic acid (with hydroxypropylmehylcellulose), Calcium d pantothenate, Nicotinamide, Magnesium Stearate, Croscarmellose Sodium, Glazing Agent (hydroxypropylmethylcellulose), Thiamine Mononitrate (with hydroxypropylmethylcellulose), D-biotin, Pyridoxone HCl (with hydroxypropylmethylcellulose), Vitamin B12 (with dicalcium phosphate),  Riboflavin, Folic Acid.
Directions
Take one tablet daily with food.