Once a Day Immune C – 30 TABLETS
High strength Vitamin C with added bioflavonoids
Vitamin C is an antioxidant nutrient that contributes to the protection of cells from oxidative stress and to the normal functioning of the immune system. Vitamin C helps towards collagen formation for many body tissues including skin, gums, teeth and cartilage. It is also involved in energy metabolism and contributes to the reduction of tiredness and fatigue.
Nutritional Information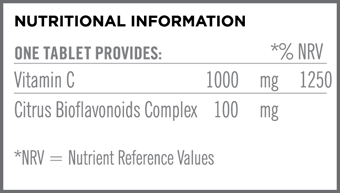 Ingredients
Vitamin C (Ascorbic acid), Citrus Bioflavonoids, di-Calcium Phosphate, Microcrystalline cellulose, Hydroxypropylmethylcellulose, Lecithin powder, Magnesium Stearate,
Directions
Take one to three tablets daily with food.