Omega 3 Fish Oil 1000mg 45+45
Heart Health. EPA & DHA for cardiac support*
Fish oil is a good source of the omega-3 essential fatty acids EPA and DHA which contribute to the normal function of the heart. This beneficial effect may be obtained with a minimum daily intake of 250 mg of EPA and DHA. DHA contributes to maintenance of normal brain function and vision, it is a key nutrient in brain structure adequate levels are needed to influence neurocognitive development and omega 3 supplements are recommended for pregnant women and infants.
Nutritional Information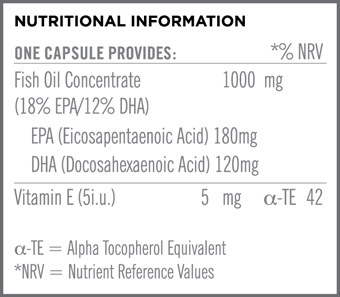 Ingredients
Fish Oil Concentrate, Capsule Shell (gelatin, glycerin),Vitamin E (as dl-alpha tocopheryl acetate).
Directions
Take one to two capsules daily with food.