Multimineral 10 – 60 TABLETS
Contains 10 minerals to support bones, muscle and immune function*
Quest Multi-Mineral 10 is a comprehensive multimineral formula providing 10 key amino acid chelated minerals including calcium and magnesium in a balanced ratio needed for the maintenance of normal bone and muscle function. The antioxidant minerals selenium, zinc and copper help protect body cells from oxidative stress and support the normal function of the immune system.
Nutritional Information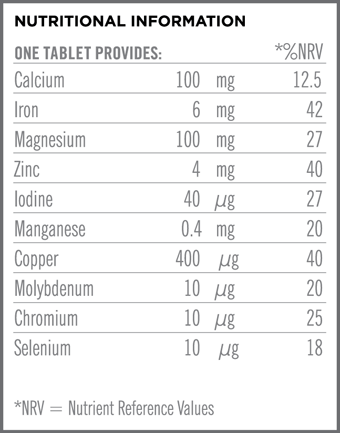 Ingredients
Calcium -magnesium amino acid chelate blend (with magnesium aspartate, calcium carbonate, magnesium oxide), Bulking agent (microcrystalline cellulose), Multimineral amino acid chelate blend (magnesium oxide, calcium carbonate, iron glycinate, citric acid, rice protein, zinc oxide, glycine, copper sulphate, selenium aspartate, manganese carbonate, rice protein concentrate, potassium iodide, chromium aminoate, molybdenum aminoate), Calcium amino acid chelate blend (with calcium carbonate, citric acid, calcium hydroxide, rice flour, glycine, rice protein), Croscarmellose sodium, Anticaking agent (precipitated dioxide, magnesium stearate), Glazing agent (hydroxypropylmethylcellulose).
Directions
One or two tablets daily with food.