Kyolic Liquid – 60ML LIQUID
Contains water and oil soluble compounds from organically grown garlic
Aged garlic contributes to normal heart, liver and immune function. Kyolic garlic is produced from organically grown cloves cold aged for 20 months to produce sulphur containing compounds including s-allyl cysteine and S-allyl mercaptocysteine.
Nutritional Information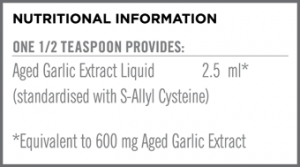 Ingredients
Aged Garlic Extract, Water and residual alcohol from extraction, Caramel.
Directions
Take 1/4 to 1/2 teaspoon or 30-60 drops with a meal twice daily.