KidzBiotix – 30 TABLETS
Probiotic bacteria especially formulated for children
Each KidzBiotix chewable tablet is packed with billions of probiotic bacteria to support their dominance in the gut. The active bacteria in this product are lyophilised, gently tabletted and then individually sealed by Quest to enhance their stability until the end of the shelf life.
Nutritional Information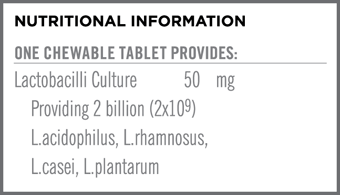 Ingredients
Dextrose anhydrous, microcrystalline cellulose, lyophilised lactobacilli culture, blackcurrant flavour, precipitated silicon dioxide, magnesium stearate, beetroot powder, antioxidant: citric acid.
Directions
One to two chewable tablets daily with or after a meal. Suitable from 3 years of age.