LiverBiotix – 30 CAPSULES
Supports and protects normal liver functiom
A unique combination of 3 natural active ingredients. Contains milk thistle extract (silymarin), choline* and probiotic lactobacilli bacteria. Supports and protects normal liver function. The liver, consisting mainly of hepatocyte cells, is a key organ in the body responsible for fat, glucose and protein metabolism. It is also plays an important role in regulating blood glucose levels, blood cholesterol levels and is involved in the metabolism of waste and also the detoxification processes in the body. The accumulation of fat within liver cells can lead to inflammation, scarring and fatty liver disease.
Nutritional Information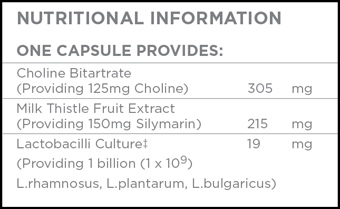 Ingredients
Choline bitartrate, Milk thistle (Silybum marianum) fruit extract, bulking agent: microcrystalline cellulose, lactobacilli culture‡, magnesium stearate, capsule shell (hydroxypropylmethylcellulose, gelling agent: gellan gum). Contains no hydrogenated fat, artificial preservatives, colours or flavours; added starch, sucrose, lactose or salt; wheat or gluten.
Directions
One capsule daily with or after a meal. Swallow with water.