ForteNerve B – 30 TABLETS
B1, B6 and B12 Complex. Supports a healthy nervous system*
ForteNerve B provides a high level of three carefully selected B vitamins to support a healthy nervous system. Vitamins B1, B6 and B12 contribute to the normal functioning of the nervous system and are involved in the release of energy from food. Vitamin B6 and B12 also contribute to normal psychological function.
Nutritional Information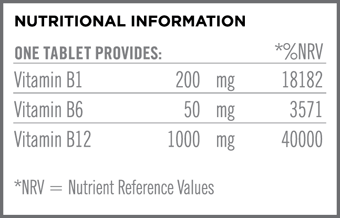 Ingredients
Microcrystalline cellulose, thiamine (methyl cellulose), vitamin B12 (with di-calcium phosphate), vitamin B6 (methyl cellulose), di-calcium phosphate, croscarmellose sodium, anti-caking agent: silicon dioxide, magnesium stearate, coating agents: hydroxypropylmethylcellulose, stearic acid, microcrystalline cellulose, titanium dioxide, iron oxide red.
Directions
One tablet daily with food.