Equigluco – 30 TABLETS
A combination of chromium picolinate, green coffee, magnesium and B vitamins
Equigluco is a specialist formula from Quest, combining standardised green coffee bean extract, chromium picolinate, magnesium, vitamin B6 and vitamin B3 (niacin). Chromium helps maintain normal blood glucose levels. Vitamin B6 contributes to normal glycogen metabolism. Glycogen is the body's long term storage energy source that helps to maintain normal blood glucose levels between meals. Magnesium, vitamin B6 and niacin also contribute to normal energy yielding metabolism.
Nutritional Information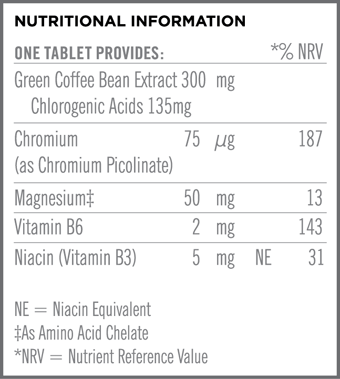 Ingredients
Di-calcium phosphate, green coffee extract (provides chlorogenic acids), mineral amino acid blend (provides magnesium oxide complexed with aspartic acid, citric acid, hydrolysed rice protein), microcrystalline cellulose, coating (hydroxypropylmethylcellulose, microcrystalline cellulose, stearic acid, colours: copper chlorophyllin, titanium dioxide), croscarmellose sodium, magnesium stearate, anticaking agent: silicon dioxide, niacin, vitamin B6 (with methyl cellulose), chromium picolinate. Each tablet contains no more than 3% caffeine.
Directions
Take 1 tablet immediately before or with food/meals, up to and maximum of 3 tablets daily.