CurQuMax – 30 TABLETS
A combination of DL-phenylalanine and turmeric with black pepper extract
CurQuMax tablets combine curcumin from the spice turmeric and the amino acid DL-phenylalanine along with piperine from black pepper. Turmeric contributes to the management of immune responses and may support joint and digestive health.
Nutritional Information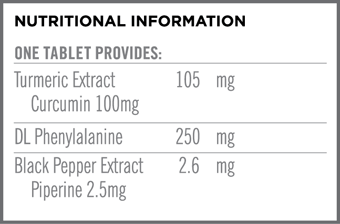 Ingredients
Di-calcium phosphate, bulking agent: microcrystalline cellulose, DL-phenylalanine, turmeric extract, magnesium stearate, anti-caking agent: silicon dioxide, black pepper extract, tablet coating (hydroxypropylmethylcellulose, colours: iron oxide yellow, iron oxide red, titanium dioxide, iron oxide black; glycerine).
Directions
Take three to six tablets daily as required.