Cell Life – 30 TABLETS
Immune Support** Vitamins, minerals & mixed carotenoids
Quest Cell Life is a comprehensive formula designed to provide optimum levels of nutrients needed for immune support. **Vitamins A & C and the minerals zinc, selenium and copper contribute to the normal functioning of the immune system. * Vitamins C & E and the minerals zinc and selenium may also help protect body cells against oxidative stress. It is ideal for smokers, heavy exercisers, those living in polluted areas and the over 40's. An optimal combination of water and fat soluble antioxidants which are found naturally in fruit and vegetables.
Nutritional Information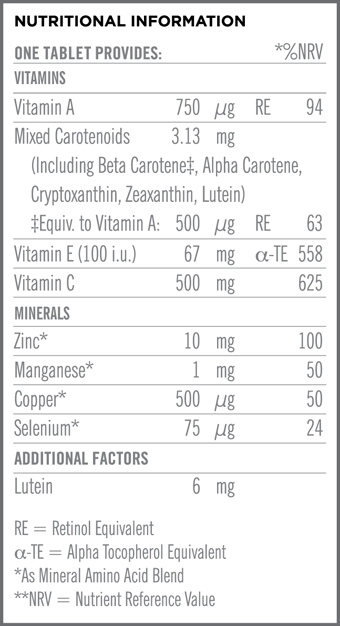 Ingredients
Ascorbic acid (with hydroxypropylmethylcellulose), Bulking agent (microcrystalline cellulose), D-alpha tocopheryl acetate (from soya with corn starch, maltodextrin, silicon dioxide, monoglyceride), Dicalcium phosphate, Antioxidant amino acid chelate (rice protein, citric acid, zinc oxide, glycine, manganese carbonate, copper sulfate, sodium selenite), Lutein (from marigold flower extract, with corn starch), Mixed carotenoids (maltodextrin, croscarmellose sodium, methylcellulose, ascorbic acid), Vitamin A palmitate (with sucrose, gum arabic, corn starch, tricalcium phosphate, dl-alpha tocopherol), Croscarmellose sodium, Anticaking agent (magnesium stearate, precipitated silicon dioxide), Glazing agent (hydroxypropylmethylcellulose).
Directions
Take one tablet daily with food and swallow with water.