BioFolic – 60 TABLETS
Bio-available form of folate for pregnant women.
Provides L-methyl-folate, the bioavailable metabolically active form of folate in the body. Folate contributes to maternal tissue growth during pregnancy to reduce the risk of neural tube defects and has a role in body cell division and blood formation. The bio-active form of folate, l-methylfolate can be directly used by the body upon absorption without any metabolic conversion process. It directly increases the serum levels of folate. Low maternal folate status is a risk factor in the development of neural tube defects in the developing foetus. It also supports immune function, helps reduce tiredness and fatigue and supports normal homocysteine levels. Women who are planning or in the early stages of pregnancy, are advised to take 400mcg of folate as a supplement daily to ensure a dietary intake.
Nutritional Information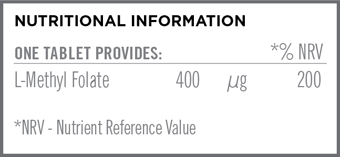 Ingredients
Bulking agent: Microcrystalline Cellulose, Calcium methylfolate, Di-Calcium Phosphate, Magnesium Stearate.
Directions
Take one tablet daily with food.