Beta Carotene 15mg – 30 TABLETS
Alternative source of vitamin A
Beta carotene is a member of the family of carotenoids that are found abundantly in plants, fruits and vegetables. Beta carotene is a precursor to vitamin A and can be converted to vitamin A in the body as required.
Nutritional Information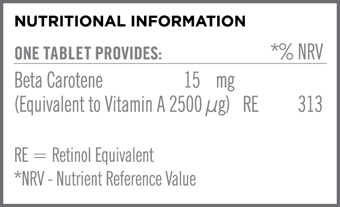 Ingredients
Bulking Agent (microcrystalline cellulose), Dicalcium Phosphate, Beta Carotene (with modified starch, corn starch, dl-alpha tocopherol), Magnesium Stearate, Glazing Agent (hydroxypropylmethylcellulose).
Directions
One tablet daily with food.