Amino Complex 1000mg – 60 TABLETS
Quest Amino Complex provides a blend of eighteen amino acids including the eight essential amino acids that can only be obtained from the diet. Amino Acids are used by the body to form working proteins, such as enzymes and hormones, which drive the biological functions that sustain life. Amino acids also form, build and maintain structural proteins in our body. Quest Amino Complex is recommended for regular exercisers, those recovering from illness or surgery, strict vegetarians and high protein dieters.
Nutritional Information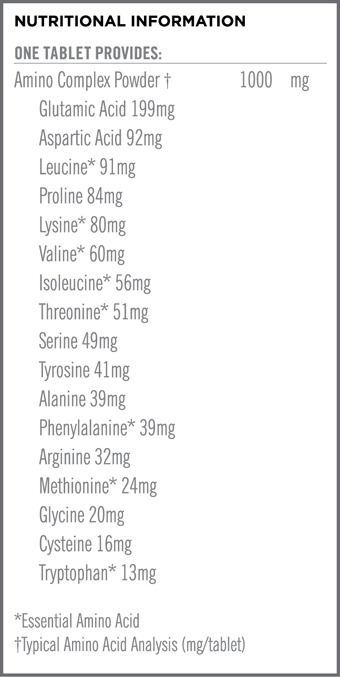 Ingredients
Amino Acid Complex Powder, Bulking agent: Microcrystalline Cellulose, di-Calcium Phosphate, Magnesium Stearate, Anti-caking agent: Silicon Dioxide, Glazing Agent: Hydroxypropylmethylcellulose.
Directions
Take One or two tablets with each meal.