Acidophilus Plus
Non dairy source of L-acidophilus, L-casei casei and L-casei rhamnosus. 2 billion lactobacilli bacteria
Quest probiotic products are manufactured 100% in-house from proprietary probiotic master cultures with proven stability and survivability in the GI tract. Quest Acidophilus Plus provides a blend of lactobacilli bacteria, lyophilised and encapsulated with guaranteed potency until the end of shelf life.
Nutritional Information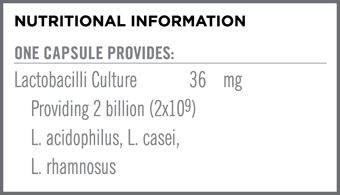 Ingredients
Maltodextrin, Capsule Shell (hydroxypropylmethylcellulose, gellan gum), Magnesium Stearate, Ascorbic Acid (with hydroxypropylmethylcellulose).
Allergy Advice: May contain traces of soya.
Directions
One capsule two to four times daily, with food.